In 2011, Charlotte Clews organized either the Maine Mountain challenge or the Granite Womon challenge or the Long Island challenge or whatever the heck we're going to call it. It was a resounding success, as evidenced by this picture that Charlotte took: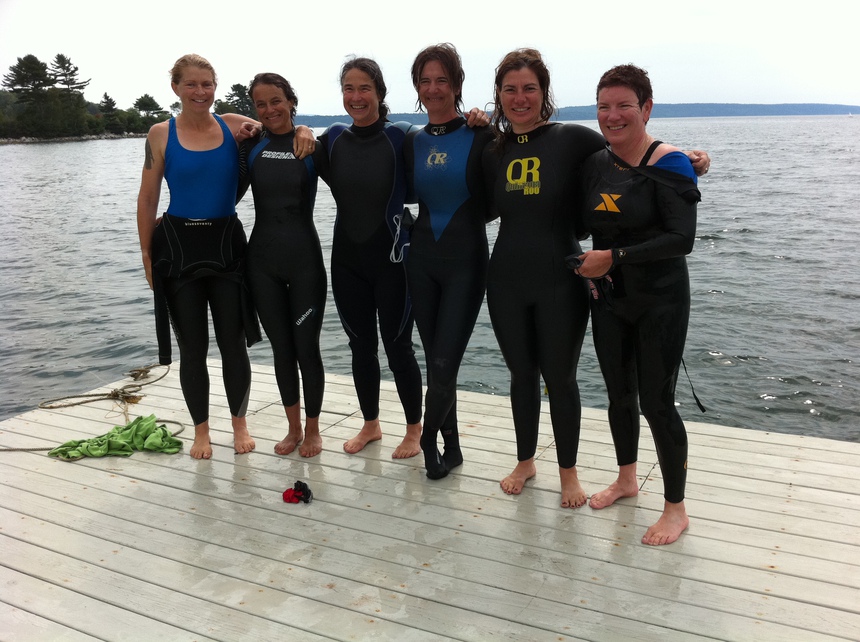 The swimmers, from left to right, possibly out of order?:
Charlotte Clews
Bahia Yackzan
Louise Bourne
Kim Parrot
Mary Clews
Moira McMahon
Charlotte writes:
What an awesome morning! All six women (Kim Parrot, Mary Clews, Bahia Yackzan, Louise Bourne, Moira Mahon and me) swam from Long Island to Sculpin Point in less than 2 hrs! We rock. And so do our support crew - it took a last minute fuel-line switcharoo, a last-minute boat put-in in South Blue Hill, and a last-minute kayak paddler to pull it off but we did, and the longer we waited the calmer the water got - and ultimately the current seemed just right. Let's remember that timing for next year. (By the way, if you weren't there this year, this email is your recruitment email for next year).

I continued the challenge with a bike ride to the base of Cadillac Mountain's North Ridge Trail - it was 38 miles on my odometer and I stopped for a snack at John Edwards, so it took me 2.5 hrs and I only got side-swiped once - on the last mile of the Park Loop Road …. Otherwise it was a pretty nice bike ride. The (barefoot) hike up Cadillac felt super easy after the long swim and ride. It's 2.2 miles and only took an hour with Jerome talking the whole way.
There are a whole bunch of pictures in Andy's flickr set for this year.