Well, it's 10:47 in the morning, and everyone's still alive.
This is only news because today was the twentieth running of the long island challenge granite mon thing, and everyone made it safe and sound.
As usual, we got up early; we met at the yacht club at 6:00 AM, which (I see) is actually an hour later than last year. In fact, we might well have started an hour earlier, as we would have had a wee bit more tidal assist and a wee bit less chop.
Be that as it may, it was an absolutely gorgeous morning, and the water was warm. Actually, if you must know, it was way too warm. Not for the swimmers, but rather for the aquatic life. I've been doing this swim for about twenty years, now, and the water just keeps getting warmer and warmer. I think it was 65 degrees, but apparently a few days ago Henry Becton recorded a temperature of 75 degrees. This is why all of our aquatic life is dying. Nice for human swimmers, though….
I think this might be a good time to give a shout-out to MERI, which has been monitoring the blue hill watershed since 2004, among many other projects. They report that the ocean temperature has risen by an average of 1.56 degrees celsius, which is … a lot.
So, the death of the planet notwithstanding, we had a really nice swim.
Here we are before the swim (apologies to Tricia, who is entirely hidden here):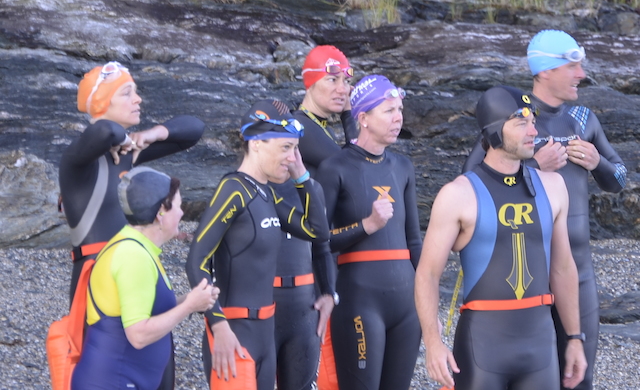 Here we are after the swim: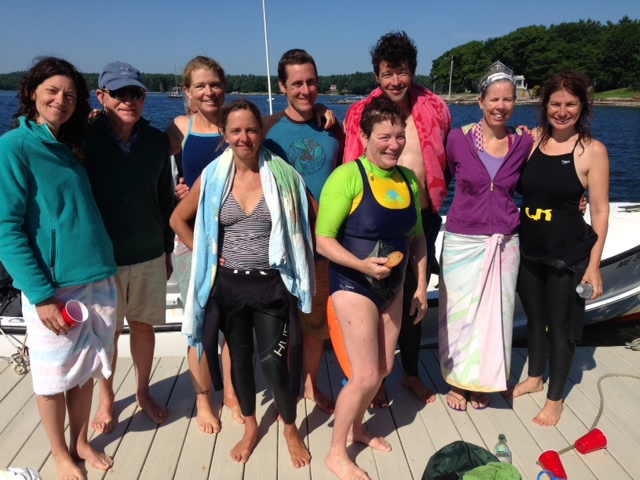 From left to right:
Alice Clements
Henry Becton (didn't swim, but he looks great in this picture)
Charlotte Clews Lawther
Tricia Sawyer
Jerome Lawther
Moira McMahon
John Clements
Samantha Lee
Mary Clews
We would never have attempted this without the astonishing volunteers, including:
Sara Becton
Ethan Coit
Kitty Clements
Robin Clements
Tom Clements
Molly Cooper
Henry Clews
Amanda Herman
John Jeffrey
Deborah Miller-Little
Wing Taylor
Will Taylor
Following the swim, Charlotte and Jerome biked up to Millinocket, and the next day, climbed Katahdin. Guys, may I include your picture at the top?
Thanks to Wing and Alice for pictures. And finally, Alice Clements once again gets credit for organizing the event. Thanks!