Hey, today was the day! The day of the annual swim from Long Island to the mouth of Blue Hill Harbor, the current incarnation of the Granite Wo-Mon Challenge.
Before the swim: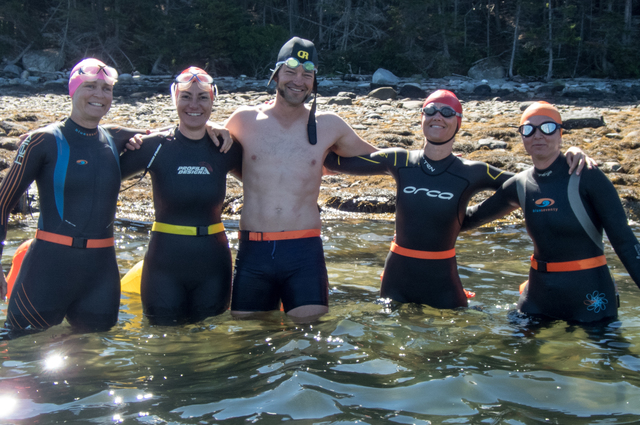 Thanks to Chris Guinness for this excellent shot.
After the swim: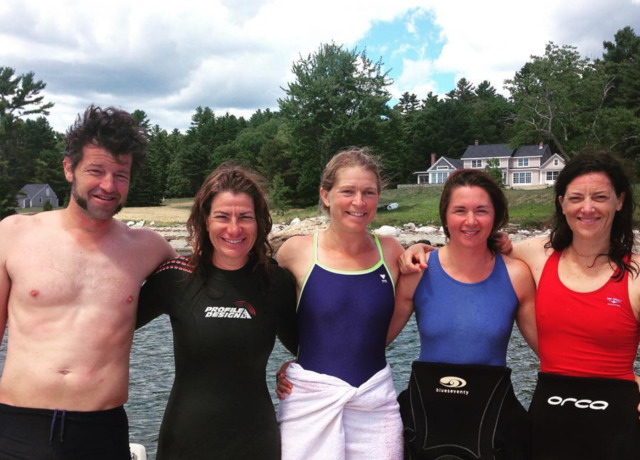 Charlotte Clews posted this picture, although she's in the picture so I suspect she didn't hit the button. Was this Henry?
Low tide was at 8:47 AM today, so by rights we should have started the swim at about 11:00 AM, but no one wanted to wait quite that long. We gathered at the KYC at 9:00 (or 9:10… or 9:15) and headed out to Long Island. I think we managed to start swimming at about 10:00.
Let me just say: choppy. Not end-of-the-world choppy but still chopping pretty good. Which is to say: bad. I think we all swallowed quite a bit of seawater.
My strava log suggests that the swim took about 1:38, which is quite a bit more than last year.
A special thanks this year to Tricia Sawyer, who pretty much organized the event, and didn't get to swim. (N.B.: "Organized" = "sent an email to the rest of the slackers".) It wouldn't have happened without you!
For those of you completely confused: Granite Wo-Mon Summary Page
So! The swimmers! (In alphabetical order. I love it because Clementses go first. Unless Sara starts swimming.)
Alice Clements
John Clements
Mary Clews
Amanda Herman
Charlotte Clews Lawther
Amazing chase boat crew and welcoming committee:
Sara Ardrey
Henry Becton
Jeannie Becton
Anika Clements
Kitty Clements
Tom Clements
Henry Clews
Hal Clews
Chris Guinness
Sean Guinness
Stephen Labrum
Jerome Lawther
Jenney Wilder
Eliza Wilmerding
Renee (last name ?)
Others?
Finally, I note with mild dismay the absence of any first-time swimmers. Maybe Lucas will swim next year?